Protect your Investment



Whatever the riding style, the cycling enthusiast's bicycle has a hard life. The repeated stresses from travelling over bumps and constant torquing on the drivetrain leads to accelerated wear and tear. A well maintained bike lasts longer, rides more smoothly and is more reliable when you are miles from home.



A bicycle is an expensive investment and our sport has a lot of gear involved compared to other recreational pursuits. Once cycling enthusiasts have their ideal bike, they want to ride it as much as possible before replacing expensive parts. Regular maintenance of the drive train and moving parts can significantly extend a bike's lifetime.



Whilst it is possible to get by with general purpose lubes and fluids you may find in your garage, high performance chemicals designed specifically for cycling work better and last longer. We aim to bring you the best cycle maintenance products at an affordable price to make it worth your while. Go the extra mile with a smoother, cleaner running bicycle.



Ride-Right products help you fall more in love with cycling, with smooth running and long lasting equipment.

High Performance Chain Lubes



The chain is an important component and has a hard life. Even in dry conditions the cycle enthusiast's chain becomes worn and stretched fairly rapidly, as they enjoy cycling in the sunshine for many miles. Factor in wet conditions, muddy off-road rides, low gears and heavyweight riders and lubrication of the chain is even more important.



The best type of chain lube to use depends on the conditions you ride in. When it is dry and dusty outside only dry dust is attracted to the chain. Under these conditions a dry wax lubricant is best. This leaves a dry lubricating film between the moving parts with no wetness or stickiness. The chain stays very clean, with minimal attraction of dirt and grime. After cycling in the sunshine and returning home, more dry wax lubricant can be applied straight to the chain, without the need to clean it first. Each time it is applied the ceramic coating builds up,, ultimately providing the durability of many oil-based lubes.



Ceramic Dry Wax Lube is best for dry and dusty conditions.



For wet conditions, and muddy off-road riding a high adhesion wet lube is required for your cycle chain. Water and mud are constantly being splashed over the drive train. The wet lube is more resistant to washing off than a dry wax. It goes on wet and stays wet on the chain. The super durable, high viscosity synthetic oils sticks to the moving parts. This gives maximum longevity in the harshest cycling environments, and when you ride hard and long.



Ceramic Wet Lubricant is best for wet and muddy conditions.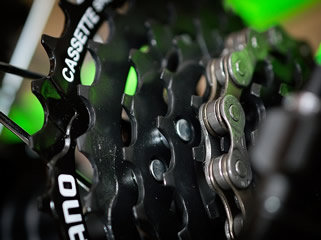 Quality Greases



Grease is used to lubricate many important parts of the bicycle, including the bearings. Bearings are found in everything from pedals, to bottom brackets, headsets and wheel hubs. Grease is also used for assembling parts like suspension forks, sliding O-ring seals and protecting against corrosion and seizure in fixtures such as pedal axles.



The cycling enthusiast may take on complicated maintenance jobs themselves, such as stripping down wheel hubs and pedals to service loose ball bearings, or cleaning headsets and suspension forks. Using a high quality grease ensures maximum service life. You can go the extra mile and enjoy the sport more, before the next time-consuming strip down is neccesary.



For demanding applications such as wheel hubs where the bearings rotate quickly under load, we recommend using Ceramic grease. This gives the maximum long-lasting lubrication. It is also recommended for extreme weather and muddy off-road riding, where the grease can become contaminated with water and grime. Durable ceramic grease keeps working to protect your valuable parts more.



Ceramic Grease has maximum protection for critical bearings and extreme weather.



For normal, less demanding applications and dry conditions we recommend the Silicone General Purpose Grease. This is a high quality conventional grease. It is ideal for headset bearings, pedal axles, lubricating o-ring seals, preventing parts from seizing and for bearings that are not under high loading or extreme conditions. It is less expensive than the ceramic grease, so you can use it more plentifully to ensure optimun maintenance.



Silicone Grease is best for general purpose use.


Brake Mineral Oil



Disc brakes are essential for your safety and enjoyment of cycling, especially the fun downhills. The enthusiast may choose to bleed their own brakes when air has got into the hydraulics and lever feel is compromised. Our brake fluid is designed specifically for bike brakes with no compromise, leading edge chemistry to give superior fluid life and braking performance over common mineral oils. It has super low-viscocity for better lever feel and pad retraction, with consistent performance through a full range of operating temperatures.



Brake Fluid gives high performance with Shimano and Magura brakes.


Anti-Fog Cleaner



Eye protection is used in many forms of cycling. For Mountain Biking safety glasses are often worn, to protect the eyes from branches, mud and stones thrown up from the trail. Downhill mountain bikers wear goggles to protect the eyes. Road cyclists often wear sunglasses to protect from UV exposure when enjoying cycling in the sunshine.



Keeping the glasses or goggles clear of mist is an important safety consideration. The body heat generated by climbs, or putting power onto the pedals can cause the glasses to mist up. Whether on or off-road or the trail, the rider's vision is critical for safety. The road cyclist must be aware of other road users and the road. The off-road cycling must find the best line through dark shadows in the forest trail.



Our Intensive Anti-Mist formula lasts up to seven days.


Fork Stanchion Oil



Fork Stanchon Oil is used for cleaning the suspension fork stanchions and seals. Regular cleaning after each ride keeps the seals working longer, and protects the stanchions of your expensive forks. Without cleaning the seals become contaminated with dirt and grime. Over time this leads to seal failure with oil leaking from the fork leg, attracting more dirt and grime onto the stanchion. Eventually the surface coating of the stanchion is worn away due to the abrasive dirt. Even if the fork is serviced, the worn surface of the stanchion cannot seal properly, and oil leaks out again. Regular cleaning with our super low friction fork oil maximises suspension fork life. It is also ideal for dropper posts.



Regular cleaning of fork stanchions maximises service life.

Moly Spray



Moly Spray is a dry film coating of Molybdenum Disulphide for bike assembly use. It is designed to lubricate assembly of sliding parts, where a wet lubricant cannot be tolerated. These include seatposts and seat clamps, cranks, derailleurs, cables, pins, V-brakes, brake levers and pedals. It is suitable for lubricating the sliding tube of a dropper seatpost, and it can also be used as a dry film oil for the drive train.



Use the right bike assembly lubricant for long term reliability.

Motion Pro Action Cameras



We supply high quality sports helmet camcorders that are ideal for cycling enthusiats. They can be used as a road safety tool for road cycling, or for making exciting action films for mountain biking and BMX. Our cameras feature a 120 degree wide angle lens. This is narrower than the 170 degree fisheye lens commonly used by GoPro and other brands. You focus better on what is in front of you. This is ideal for footage chasing another rider down a trail.



Motion Pro action camera websiteSp

SceneMax - Scene Creator and Playback Software



If you have a collection of video clips from a camcorder or smartphone you often want to play only the highlights of these without showing each clip in full. Normally to do this you have to edit a whole new video yourself. Whilst editing gives the most control, its time consuming and needs video editing software. For simple viewings for your friends its more convenient to play the original files without editing.

With SceneMax you make a customised sequence of the best parts of your videos. Its simple to setup with the scenes you want. You then play them back in one continuous viewing. You can edit the scenes, add more and save the whole sequence to file. It works with the original files from your camcorder, so you watch them in highest quality with no changes or recompression. It also supports slow motion for use with action cameras.



SceneMax - Video playback softwareeditor app programDemo video: SceneMax Video App for Android



Exercise Bike Seat Extender for a Tall Person



Its common that seat posts on exercise /spin bikes don't not raise high enough to fit a tall person. Correct leg extension is important for optimal pedalling efficiency and to exercise the legs through their full range of motion. The saddle extension for a tall person fits a common saddle standard used by most Roger Black exercise bikes. It simply bolts in place between the saddle and the seatpost to raise the height. The production version is now ready and it's available to order online from our sister site (Motion Pro).



Seat post extender for Roger Black gold exercise /spin bikeSp