This article outlines the health and wellbeing benefits of off-road cycling. Here are six main reasons why a mountain bike improves your fitness and quality of life. We believe that anyone with an interest in bike rides and the outdoors should try this fantastic sport.
1. Health and Exercise
Off-road rides involve mixed terrain surfaces and different types of slope. Sometimes the climbs are short and technical. Cyclists must exert themselves powerfully. At other times there are longer more gentle hauls, or steady cycling on flat terrain. In any case riding involves cardiovascular exercise of medium to long duration, combined with strength building. This is mostly strength of the legs but with technical climbs and downhills it extends to the upper body too. Due to the gears on the bike and riders' choice of route, they can set the pace and intensity of the workout just right, according to how the cyclist feels. There's no need to be competitive or to over-exert yourself, as is common with more mainstream sports.

Mountain biking is an enjoyable activity that takes place in fresh air. Because you are having fun, you become engrossed and forget about the exercise aspects. The feeling of tiredness and negative dislikes of training are mostly forgotten, as you experience the sensation of your wheels floating over the rough terrain through varied lines. This makes it an enjoyable workout. Mountain biking is the ideal sport for keeping fit and healthy at your own pace.
2. Action and Flow
Unlike many other aspects of life, when you are riding your bike you have complete control of everything that happens. By inputting the controls to your cycle, you enjoy steering through the terrain, along with balance and technique. With any ride there is as much downhill as uphill riding. Your efforts on the climbs are directly rewarded with action and flow on the downhill sections.

Flow is a psychological state of intense concentration, which only happens when the demands of the situation interact with your abilities. Your body flows along the trail without effort or voice. There is no attention left to think about anything irrelevant, so outside thoughts, self consciousness and your inner demons disappear. You are focused but not forced. Controlling the bike becomes effortless. Your sense of time changes, and all tension disappears.
One way to describe this sensation is "life in the moment". Your senses and awareness become heightened. Every second is precious,and you feel your place in the Universe belongs right there.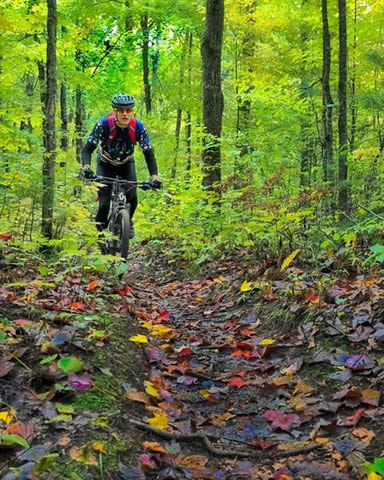 3. Time Spent Outside with Nature
Mountain biking is valuable time spent outside away from life's normal distractions. It is just yourself, maybe with your riding friends in the natural environment and fresh air. There is no traffic, pollution, computers, money, phones, crime or any other problems associated with the man-made environment. The natural beauty of the world is enjoyable. You have time to reflect on what your are doing, where you have come and where you are going in the rest of your life. Often you encounter wildlife. On the cycle you approach silently and relatively quickly, so you can get a close view before the animals see you and run off.
4. Exploration and Freedom to Roam
The off-road cycle ride lets you explore new areas of countryside. You can take unknown paths and enjoy finding interesting new routes. Because the activity is self-powered it gives you a strong sense of freedom. With cycling longer distances can be covered than with other comparable activities, such as walking. You also have the means to return home more quickly using the road network if you become lost or something goes wrong (except sometimes with mechanical problems).
Side note: Unfortunately in the UK access to the countryside for cyclists is severely limited by the rights of way network, with only Bridleways and Byways permitting access. The organisation Open MTB are campaigning to extend countryside access to bike exercise. With obesity and sedentary lifestyles at a record high, this would help people improve people's health.
5. Long Term Satisfaction


Mountain cyclists derive satisfaction by developing their interest in the long term. This is both in terms of skills and fitness, but also in accumulation of experiences whilst riding and the different places visited. You get a feeling that the sport is always there for you, come good times or bad.


6. Making Friends and having Shared Experiences


With off-road cycling it is easy to meet other riders. Socially it is straightforward to ride together and get along, without having to think too much about the social aspects. The shared experiences generate strong mutual friendship and trust. With your riding friends you always have something to talk about. Discussing the rides, locations and equipment leads to long and interesting conversations. People who may feel shy or awkward in other social situations can integrate seamlessly into the group, because you are all so into what you are doing.

This outlines the key benefits of travelling through the countryside on two wheels. If you have not tried it, then why not get out there and discover for yourself how it can improve your quality of life.